Department of Mechatronics
The advanced technical effects of electro-mechanical products like industrial and service robots are achieved by controlling systems, which consist of such components as sensors and motors, with computer programs. Knowledge of mechanics (structural mechanics), electronics (sensor/circuit), and computer science (control programs) are essential to designing/developing these products. The mission of our department is to educate students to become successful engineers/technologists capable of developing products by using mechatronics science which integrates technologies of mechanical, electrical, and computer engineering. These engineers/ technologists should also be need-recognizers and problem-solvers of our society.
In fulfillment of our mission, the Department of Mechatronics pursues education "from whole to detail," instead of the typical "from fundamental to application"; provides curriculums including numerous experiments and practices beginning in the first year of school to enhance application skills of students.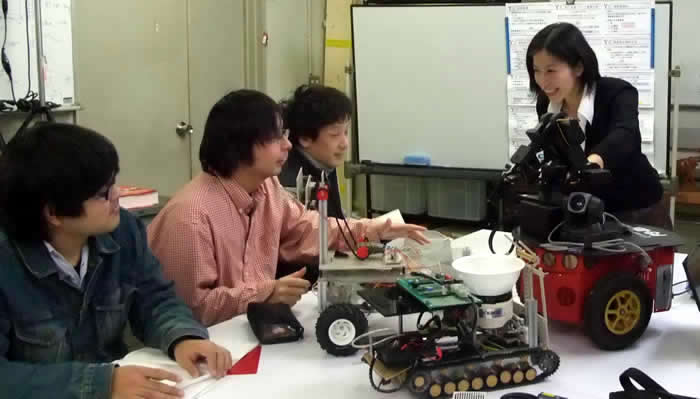 Development of autonomous mobile robot

Mechanical design with CAD [Left], Programming [Right]

Design and fabrication for electronic circuit [Left], Experiment for motor control [Right]
After graduation
March 2021
| | |
| --- | --- |
| Number of graduates | 53 |
| Number of employed upon graduation | 26 |
| Number of students advancing to master programs | 27 |