Department of Applied Chemistry
Applied chemistry involves learning about substances, techniques, and principles/laws regarding new materials, energy, and the environment from the viewpoint of chemistry and of applying it to humans' welfare and the development of a sustainably viable society. The Department of Applied Chemistry fosters students who will contribute to research and development in the discipline and possess a wide-range of knowledge and abilities for promoting an environmentally friendly, safe, and comfortable society through comprehensive guidance by teachers.
Our department offers six-year practical educational programs including master's programs with a central focus on chemical experiments and manufacturing. In the first and second years, students will attend lectures in the basics of chemistry, physics, and mathematics; they will also participate in state-of-the-art research experiments beginning the first year. In the second year, they will conduct practical chemical experiments and utilize basic techniques in material manufacturing. Students will learn how to summarize findings of experiments in specialized areas and make presentations in the third year; after December of the third year, each student will be assigned to a professor's laboratory for graduation studies and one-on-one training. For students with interests in research development, we recommend that they proceed to graduate school to continue their research and deepen their professional skills. Students enrolled in this department can learn from seminars, experiments, and graduate research with professors from the Clean Energy Research Center (developing state-of-the-art research of fuel batteries), a liaison facility for education and research.
Graduates are working in research development, production control, engineering, and sales in the chemical industry, materials industry, electronic/mechanical industry, computer industry, environmental industry, medical industry, food industry, and civil service. Many students also proceed to the master's program, possibly extending their studies to doctorate pursuits. Interaction with graduates allows students to think about further education and employment; it is likely to enhance their motivation to establish and work toward goals.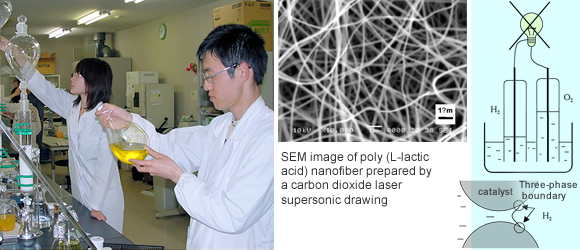 After graduation
March 2021
| | |
| --- | --- |
| Number of graduates | 53 |
| Number of employed upon graduation | 11 |
| Number of students advancing to master programs | 40 |