Department of Civil and Environmental Engineering
This department trains students to become engineers who can contribute enthusiastically to the creation of a sustainable society through the maintenance and management of a social infrastructure that is in harmony with the environment. They aim for safe national lands and regions that are resilient to disasters and hospitable communities with consideration for the environment; further, they seek to enhance living environments, and conserve the natural environment.
This department has adopted a curriculum in which students complete a course of study to acquire fundamental and specialized knowledge and skills in civil and environmental engineering in a comprehensive manner.
These include such aspects as (1) the mechanics and methods of design and management for structures and foundation, (2) fluid mechanics and methods for managing water resources, (3) the maintenance of traffic and methods for creating safe national lands and communities that are in harmony with the environment, and (4) the design and management of facilities related to the management of water and sewer services and waste materials.
Students are made aware of the responsibilities of civil and environmental engineers and are trained to become capable of expressing and communicating their own thoughts in a logical manner. Fundamental subjects of civil and environmental engineering involve not only lectures but also training.
Students can gain knowledge and skills from lectures and practical training.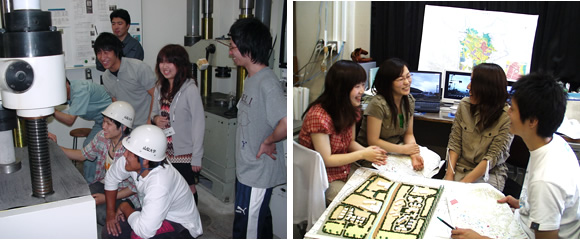 After graduation
March 2021
| | |
| --- | --- |
| Number of graduates | 60 |
| Number of employed upon graduation | 45 |
| Number of students advancing to master programs | 10 |